You can check the weather forecast of your desired location on your ZeTime, once you have set it up with the mobile app. You can access the weather forecasts from shortcuts or the main menu page.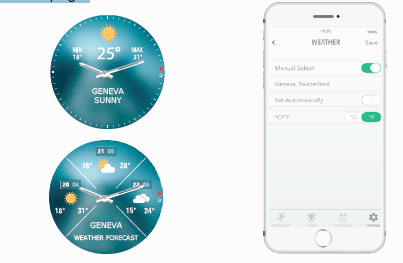 To set the weather forecast:
Go to the Advanced Settings of the mobile app
Tap on Weather

Select Automatic mode to get weather forecasts based on your GPS position (Make sure to enable GPS mode on your smartphone) and enable the ZeTime mobile App to get access to weather forecast on your smartphone if needed.

Select Manual mode for choosing your preferred location
To change the temperature unit:
Go to the weather section and select °C or F°.
Note: ZeTime can also give you a three-day forecast. For this, use the crown to access to weather information.