When receiving a call, a notification will appear on your ZeTime. You can accept or reject it straight from your wrist. The phone call will occur on your smartphone, not on your watch.
To accept or reject the call, tap on the notification bar on your ZeTime. Then, click on the reject or accept incoming call.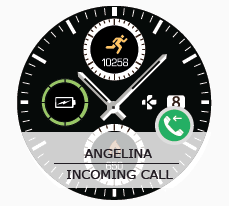 Note: Android users can also reply to an incoming call by sending a preset short text message or an emoji directly from their watch (not available for iOS users), see How do I reply to incoming calls/text messages?