With your ZeCircle2, you can activate daily life reminders;
To enable reminders, please go to the Reminders tab of your ZeCircle2 App and click Add a reminder.
You can enable 6 types of reminders

 Meeting 

 Sleep  

 Alarm 

 Medicine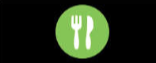 Eat 

 Activity
Simply choose the type of reminder you want, select the frequency and time to set a reminder. Do not forget  to save the reminder by clicking Save at the top right of the screen.
Tips
To change your reminder or remove, click the Reminders tab and click Edit and select the reminder that you want to edit or delete. Click on the red icon and click Delete to remove the reminder.